Wed, 23 January 2013
BehindClosedDoors - Broadcast #039
HEY THERE LISTENERS, WHY NOT COME AND INTERACT WITH US ON FACEBOOK, HERE?
Kabul Golf Club - 5 Minutes 2 Midnight
Land of Kush's Egyptian Light Orchestra - The First and the Last
All Dinosaurs - Mongoloid Three Piece Combo - First the bad news
Stanley Odd - Get Out Ma Headspace
Fantomas - Animali In Calore Surriscaldati Con Ipertermia Genitale
Marblemouth - Dear Doe Eyes
Blue Bob - 911
Old Man Gloom - Christmas Eve Pt II
Death Grips - Hustle Bones
Bandwidth - Mountain of Shit
Todd - Happy Easter Florida
Jack Hayter - O,Dreamland !
If you want us to play your band/noise/whatever, drop us a line here. Peace. ***Signal Ends***
---
Tue, 15 January 2013
Coincidence Control Network: File #039 - Frenchskis and the Apocalypse
This week: We re-round-up 2012 because we lost the episode to the apocalypse, The great cat conspiracy, The man who was never right, Wales's occult invasion, Religion messes you up...wait, this is news?, and of course...Frenchskis.
Personnel – Joe Nolan, Raymond Wiley, Kim Monaghan, and Ken Eakins
Links:
Interludes: Secret Chiefs 3 Herve Villechaize
---
Sun, 6 January 2013
The Viking Youth Power Hour: 2012: Then & Now Part 2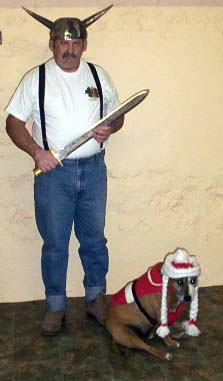 The Vikings want to wish all of you degenerates, heathens and holy fucks a very Merry Christmas! And to celebrate that we decided to post another part of our first official train wreck in 4 years. Jason is sipping on his own personal flask while Cohnny regails us with stories about Korea-town and the King's Spa in Niles. We hear about tiny jewish penises and the tactless path of the middle-aged ablution.
And what would a discussion of tact and penises be without full disclosure of Jesse Jackson's workout garb? Everybody have a safe, happy, and sickly drunk holiday. We love almost every one of you! Don't forget to tune in Friday, December 28 for our next live show!!
---